Romeo & Juliet (Kenneth MacMillan ver.)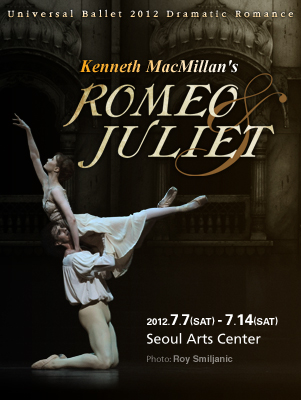 | | |
| --- | --- |
| | 2012.07.07 ~ 2012.07.14 |
| | Seoul Arts Center (Seoul) |
| | Weekdays. 20:00 / Sat. 19:30 / Sun. 15:00 ※ (Sat) 14. July 15:00, 19:30 |
| | VIP 100,000 won/ R 80,000 won / S 60,000 won / A 30,000 won / B 10,000 won |
| | Universal Ballet |
| | (+82) 070-7124-1737 |
Universal Ballet <Romeo and Juliet>
Coming in July: The Bible of eternal Love…
Kenneth MacMillan's Romeo and Juliet
| | | | | |
| --- | --- | --- | --- | --- |
| | 7.7 (Sat) 19:30 | 7.8 (Sun) 15:00 | 7.10 (Tue) 20:00 | 7.11 (Wed) 20:00 |
| Juliet | Ji-Eun Ahn | Na-Eun Kim | Ji-Eun Ahn | Na-Eun Kim |
| Romeo | Robert Tewsley | Konstantin Novoselov | Robert Tewsley | Konstantin Novoselov |
| | 7.12 (Thu) 20:00 | 7.13 (Fri) 20:00 | 7.14 (Sat) 15:00 | 7.14 (Sat) 19:30 |
| Juliet | Hye-Min Hwang | Na-Eun Kim | Ji-Eun Ahn | Hye-Min Hwang |
| Romeo | Seung-Hyun Lee | Konstantin Novoselov | Robert Tewsley | Jae-Yong Ohm |
* The casting schedule can be changed

.
After receiving great popular and critical acclaim last year for their performances of John Cranko's Onegin, Universal Ballet is once again preparing a feast of dramatic ballet for the people of Seoul, this time Romeo and Juliet. Immortalized by William Shakespeare(1564-1616), the story of the star-crossed lovers has been the inspiration for many other artistic creations, including operas, ballets, plays and movies. Universal Ballet will perform Kenneth MacMillan's masterful version of Romeo and Juliet at the Seoul Arts Center Opera Theater, from Saturday 7 July to Saturday 14 July. Universal Ballet's performances of the MacMillan's Romeo and Juliet are the first by a Korean company, and it has been has been thirty years since the work was last performed in Seoul by the Royal Ballet in 1983. As one Shakespeare's four great tragedies, the story of "Romeo and Juliet" and Prokofiev's beautiful score, considered by many to be one of the best ballet scores of all time, expressing every nuance of the passion, anguish and pathos of the story, have attracted the attention of many choreographers.
Beside the Kenneth MacMillan's version, the most notable productions are probably the Lavrovsky's, for the Mariinsky Ballet (1940), Frederick Ashton's, for the Royal Danish Ballet (1955), John Cranko's, for Stuttgart (1962), and Rudolph Nureyev's, for the then London Festival Ballet (1977). Originally created fot The Royal Ballet, the work is now found in the repertory of many major companies, and has established itself as one of the most important ballet works created in the 20th century.
Of all the ballet versions of Romeo and Juliet, MacMillan's adheres most closely to Shakespeare's original, and it is the work that established MacMillan as one of the choregraphic masters of his time. The key to the popularity of MacMillan's version lies in his approach to choreography and especially to characteriscation-in how, by making full use of Prokofiev's magical score, he updated the genre of narrative ballet from one of long passages of static mise en scene, with choreographic elements interspersed, to a genre focused much more on dancing. And all the scenes in the story is masterfully interconnected. For example, one of the work's best-known scenes, the 'balcony pas de deux', alludes to the strong tragedy that is to come throughout the performance. It is elements like this that assure MacMillan's 'Romeo and Juliet' a lasting place in the repertories of such companies as the British Royal Ballet, ABT(American Ballet Theatre), La Scala Ballet, the Australian Ballet and the Royal Swedish Ballet and others.
For their upcoming performance, Universal Ballet will bring in all of the stage sets, props and costumes from the Birmingham Royal Ballet. Seoul audiences are sure to be astounded by Paul Andrews' brilliantly evocative set, with its towering columns and classical statues, its shady walkways, a grand staircase and, of course, Juliet's famous balcony. In addition, ten artistic production staff who know the ins and outs of the production, down to the last gesture, prop placement and lighting cue will spend time in Korea with Universal Ballet's production staff, in order to create an accurate recreation of MacMillan's choreography, Andrews' designs and John Read's lighting.
The Dramatic Ballet, Kenneth MacMillan's Romeo and Juliet is...
Prokofiev's beautiful music, Shakespeare's play, Macmillan's choreography and…Universal Ballet's artistic ability come together to present the powerful dramatc ballet, Romeo & Juliet
The timeless popularity of MacMillan's Romeo and Juliet stems from MacMillan's ability to reinterpret the Shakespeare text from a modern viewpoint, bringing his strong moral sensibility to bear through the medium of classical ballet. In his hands ballet is not a merely a fairytale art, rather it is a means for theatrical depiction of the world. MacMillan's psychological interpretation of the characters in his ballets is oustanding. His interest in human beings characteristics and psychology is expressed through the movements in his choreography. His works depict people's detailed emotions and psychology.
The balcony scene pas de deux the two young lovers is among the most intense and passionate choreography ever created for dance, making the scene a highlight of any performance of MacMillan's Romeo and Juliet. But what makes his version more special still is that, besides the extraordinary intimacy of such encounters, and the psychological, emotional and technical riches afforded by these two lead roles (especially Juliet), is that is also offers such grand spectacle, and such a wealth of strong supporting roles. The ballroom scene in Act I remains one of balle's great showstoppers, and - especially with a strong Mercution and Tybalt - the sword-fights in Act II can be hair-raising and even immensely moving. Benvoloi and Paris also offer room for interpretative imagination.
With an exquisite score by Prokofiev and sumptuous designs by Paul Andrews, this tale of family feuds, forbidden passion, love, loss and death is an experience not to be missed. And atmospherically lit by John B. Read, the elegantly marbled architecture and Raphaelesque colour-palette of Paul Andrews' sets bring the feeling of a High Reneassance painting writ large. And, 20 years on, these sets remain a craftsmanlike canvas on which to have Prokofiev and MacMillan's uniquely stirring drama come to life. (MacMillan's Romeo and Juliet with new designs by Paul Andrews in 1992).
The ballet is set in Verona
ACT I

Scene 1 :
The market place

Romeo, son of Montague, tries unsuccessfully to declare his love for Rosaline and is consoled by his friends Mercutio and Benbolio. As day breaks and the townspeople meet in the market place, a quarrel develops between Tybalt, a nephew of Capulet, and Romeo and his friends. The Capulets and Montagues are sworn enemies and a fight soon begins. The Lords Montagus and Capulet join in fray, which is stopped by the appearance of the Prince of Verona, who commands the families to end their feud.
Scene 2 :
Juliet's ante-room in the Capulet's house
Juliet, playing with her nurse, is interrupted y her parents, Lord and Lady Capulet. They present her to Paris, a wealthy young nobleman who has asked for her hand in marriage.
Scene 3 :
Outside the Capulet's house
Guests arrive for a ball at the Capulet's house. Romeo, Mercutio and Benvolio, disguised in masks, decide to go in pursuit of Rosaline.
Romeo and his friends arrive at the height of the festivities. The guests watch Juliet dance. Mercutio, seeing that Romeo is entranced by her, dances to distract attention from him. Tybalt recognizes Romeo and orders him to leave, but Capulet intervenes and welcomes him as a guest in his house.
Scene 5 :
Outside the Capulet's house
As the guests leave the ball Capulet restrains Tybalt from pursuing Romeo.
Scene 6 :
Juliet's balcony
Unable to sleep, Juliet comes out on to her balcony and is thinking of Romeo, when suddenly he appears in the garden. They confess their love for each other.
ACT II
Scene 1 :
The market place
Romeo can think only of Juliet, and, as a wedding procession passes, he dreams of the day when he will marry her. In the meantime Juliet's nurse pushes her way thought the crowds in search of Romeo to give him a letter from Juliet. He reads that Juliet has consented to be his wife.
The lovers are secretly married by Friar Laurence, who hopes that their union will end the strife between the Montagues and Capulets.
Scene 3 :
The market place
Interrupting the revelry, Tybalt fights with Mercutio and kills him. Romeo avenges the death of his friend and is exiled.
ACT III
At dawn next morning the household is stirring and Romeo must go. He embraces Juliet and leaves as her parents enter with Paris. Juliet refuses to marry Paris and, hurt by her rebuff, he leaves. Juliet's parents are angry and threaten to disown her. Juliet ruches to see Friar Laurence.
Juliet falls at the Friar's feet and begs for his help. He gives her a phial of sleeping potion which will make her fall into a deathlike sleep. Her parents, believing her to be dead, will bury her in the family tomb. Meanwhile Romeo, warned by Friar Laurence, will return under cover of darkness and take her away from Verona.
That evening Juliet agrees to marry Paris; but next morning when her parents arrive with him they find her apparently lifeless on the bed.
Scene 4 :

The Capulet family crypt

Romeo, who has received the Friar's message, returns to Verona stunned by grief at the news of Juliet's death. Disguised as a monk he enters the crypt, and finding Paris by Juliet's body, kills him. Believing Juliet to be dead, Romeo drinks a phial of poison. Juliet awakes and, finding Romeo dead■